INTOSAI – المنظمة الدولية للأجهزة العليا للرقابة المالية العامة والمحاسبة …
… إن منظمة الإنتوساي هي مؤسسة مستقلة وذاتية السيادة
إن المنظمة الدولية للأجهزة العليا للرقابة المالية والمحاسبة ( الإنتوساي ) هي منظمة مركزية للرقابة المالية الخارجية العامة. الإنتوساي منظمة غير حكومية تتمتع بمنصب استشاري خاص لدى المجلس الاقتصادي والاجتماعي بالأمم المتحدة.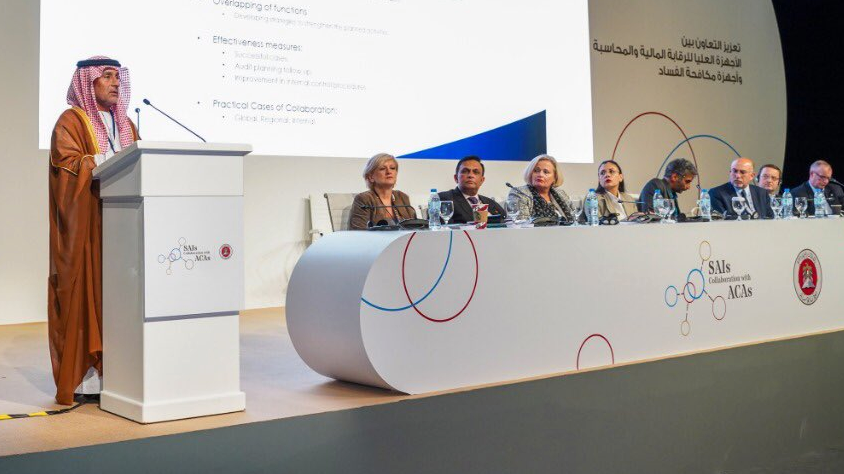 A meeting entitled "Strengthening Collaboration between Anti-corruption Authorities and SAIs" was held in the run-up to the Conference of the States Parties to the United Nations Convention against Corruption in Abu Dhabi, United Arab Emirates, on 14 and 15 December 2019.
The meeting, which was jointly organized by the SAI of the United Arab Emirates and the United Nations Office on Drugs and Crime (UNODC), was attended by more than 30 SAIs and about 40 anti-corruption…
قراءة المزيد
Upon the invitation of the Forum for INTOSAI Professional Pronouncements (FIPP), all FIPP members, the INTOSAI goal chairs, the chairs of the INTOSAI subcommittees and…
قراءة المزيد
How can the member SAIs of AFROSAI and EUROSAI contribute to the successful implementation of the SDGs?
This question was discussed by the participants of the…
قراءة المزيد
The 13th ARABOSAI General Assembly was held in Doha, Qatar, from 10 to 14 November 2019. In addition to the members of ARABOSAI, numerous observers, such as the General…
قراءة المزيد